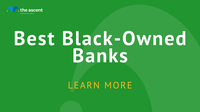 To illustrate the history of racism in banking, here's a look at the rise and fall of Freedman's Savings Bank, according to information from the Office of the Comptroller of the Currency.
In 1865 the Civil War ended and the 13th Amendment abolished slavery. At that time, Congress recognized that blacks would need education, financial services, and capital.
Freedman's Savings Bank was established in March 1865 providing black people with the same types of banking services once reserved for white men. But, as author Shawn Rochester explained, the bank was marketed as a black bank, but was actually run by white managers. They controlled about $3 million from 61,000 black depositors and they made risky investments with those funds.
The bank seemed to grow quickly, but not fast enough to pay for excessive expansion. Additionally, a volatile post-war economy led to a financial crisis known as the Panic of 1873, which further reduced the bank's investment portfolio.
By 1874 the managers had wiped out all deposits and Freedman's Bank collapsed. While the government has promised to return some of the lost funds to customers, most have received nothing – or pennies on the dollar. This is just one example of why black Americans have lost faith in the banking system. And many don't want to entrust their hard-earned money to an institution that doesn't care for them.
Read more: Beginner's guide to banking