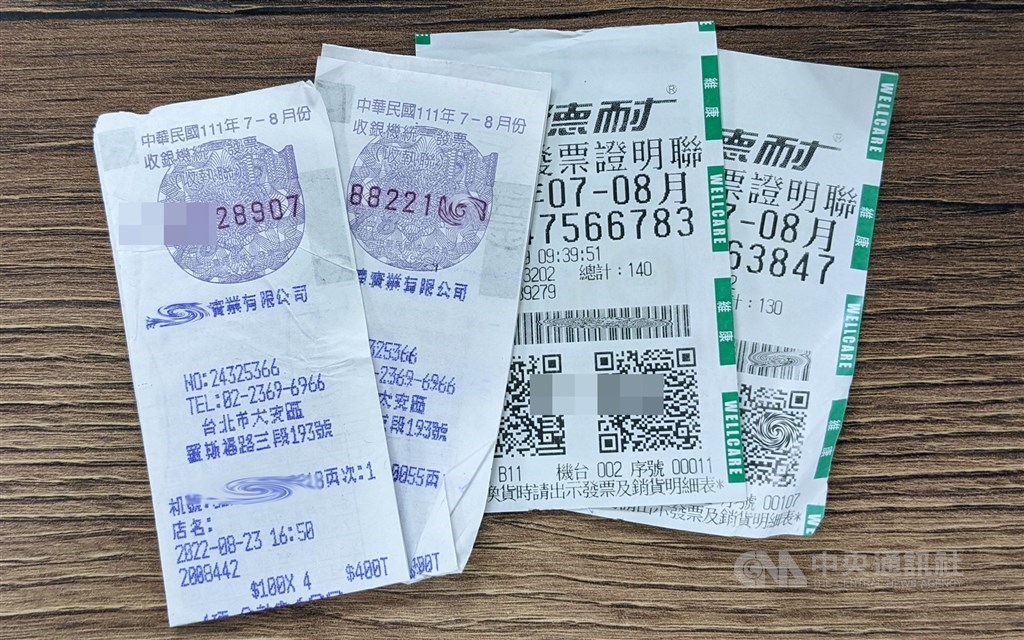 July-August Uniform Winning Invoice Numbers Released
Taipei, Sep 25 (CNA) The winning number for the special prize of 10 million Taiwan dollars (US$318,331) of the Uniform Bill Lottery from July to August is 05701942, the Ministry of Finance (MOF) announced on Sunday.
The winning number for the NT$2 million grand prize is 97718570, while the three numbers for the NT$200,000 top prizes are 88400675, 73475574 and 53038222.
The serial number on an invoice that matches the last seven digits of the grand prize numbers wins NT$40,000 and those whose invoices match the last six digits win NT$10,000.
Other prices are NT$4,000 for invoices with the last five digits of the first price, NT$1,000 for invoices with the last four digits and NT$200 for invoices with the last three digits.
Prizes for the July-August lottery can be claimed between October 6 and January 5, 2023, the ministry said when announcing the winning numbers for the two-month period.
Prizes of NT$1,000 or less can be redeemed at 7-Eleven, FamilyMart, OK Mart and Hi-Life convenience stores, as well as PX Mart and Simple Mart supermarkets.
For prizes up to NT$40,000, bills can be redeemed at credit unions across the country, while First Commercial Bank, Chang Hwa Bank and Agricultural Bank of Taiwan offer cash refunds for all prices, including those over NT$200,000.
The Uniform Invoice Lottery system, which draws winning numbers every two months, was created to encourage consumers to collect their sales invoices as part of the department's efforts to prevent tax evasion by vendors.
Separate winning numbers for Uniform Cloud-based Bill holders have also been released, including 30 NT$1 million prizes, 16,000 NT$2,000 prizes, 100,000 NT$800 prizes and 500 prizes. NT dollars, which were increased to 2.15 million from 1.65 million, starting with the July-August period.
Unlike the regular paper receipt draw, whose winning numbers are randomly drawn serial numbers, the uniform cloud invoice draw is selected directly from paperless receipts stored in the cloud.
Winners can redeem their prizes using the "Uniform Lottery Redemption" app, which can store and verify receipts and allows winners to claim their prizes through electronic transactions, with prize money paid out directly in their bank account.
According to the ministry's announcement in early September, 500,000 prizes of NT$500 for uniform cloud-based invoices have been added to increase consumers' chances of winning and promote the use of paperless receipts.
The Uniform Bill Lottery is funded by 3% of annual business tax revenue, and the tax is included in the prices of most goods and services, except for some supplied by businesses in certain industries such as banking, insurance and food and beverage, subject to Taiwan tax laws and regulations.